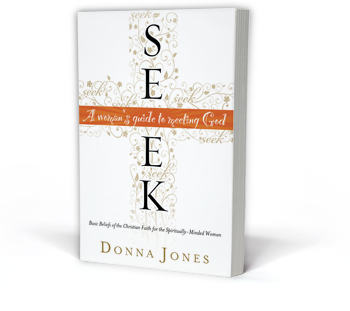 For the woman who believes meeting God is confusing or intimidating or for the woman that met God in her past but may not sense His presence today or for the woman who desires a closer, authentic relationship with Him, Seek will provide a better understanding of the following:

God in Skin: Jesus: the one who will never leave you, the Great Pursuer, the Compassionate Healer, the Forgiver and our Savior
The Invisible God: Holy Spirit: Helps us meet God, gives us assurance, helps us understand and apply God's Word, makes us witnesses, prays for us and is our helper
Bible Basics: Its uniqueness, the promises to claim, the commands to obey, the examples to follow and the truths to believe
Prayer: Reasons to pray, direction on prayer, elements of prayer, unanswered prayers, when God says no and when God says wait on the answers
Growing in God: Know and Follow God's Word, get connected with other Christians, find a place to serve and talk to God daily
Seek is a resource for individual or group study, and will help readers understand that God gives them the ability to experience their life at their fullest potential through His forgiveness, freedom, mercy and love.
Seek Leader's GuideDownload PDF
Sample ChapterDownload PDF
See More Books by Donna

Praise for Seek
"Seek is the perfect book for any woman who desires to get acquainted with God. Donna Jones leads women on an inspiring journey and does a beautiful job of weaving the practical, the biblical, and the personal in her introduction to God. Her refreshing and engaging style will leave you wanting to know Him more."
Donna is committed to honoring the people God has placed in her life—including you. Seek is solidly rooted in the timeless teaching of God's Word, and it is designed to put Christianity on the bottom shelf and answer questions you have always wanted to ask but couldn't. You are headed for a journey with the ultimate power to live the life you always wanted.
I loved Donna the moment I met her, and I also loved this book the moment I picked it up. Packed within these pages is such crystal clear truth about who God is and how He woos and pursues His people! If you're thirsty to meet the REAL God who ministers to us in REAL ways, you're going to love this book too!
In Seek, Donna Jones tackles the question that we've all asked and, quite possibly, may be asking at this very moment: "God, who are You, really?" As she peels back the layers of curiosity and unveils the truth, she guides us into knowing more about the person of God, the selflessness of Christ, and the power and guidance of the Holy Spirit. If you're curious about God—if you're seeking to know Him more intimately—this book is for you.
Ironically, my best stuff for equipping men comes from what women reveal to me about their longings and frustrations in life. One thing women tell me is that broken female culture can be sincerely insincere—well meaning but often shallow, isolating and unsatisfying. Into this world drowning in synthetic connections and spiritual life comes Donna Jones. Seek is a coffeehouse connect in the midst of the gravities of life. If it were possible to feel a warm latte with a close friend, deeply connect, and be enriched with meaning through authentic and honest dialogue, it is waiting for you in the pages of this book!
As a women's ministry director, I know firsthand the importance of having resources for all women in your church. Sadly, not much has been available for the new believer or the woman with questions about God—until now. Seek is the "must have" book for women who are just beginning their spiritual journey or those who want to make sure they're grounded in the basics. It is filled with insights and inspiration for any woman who wants to know and experience God in her everyday life. I love this book!
Is God real? Can I know Him? Can He really be my friend? What do I do with the Bible? How do I pray? Are those questions you've asked? In her down-to-earth, girlfriend-next-door style, Donna Jones walks with you and gives you direction and honest answers in your faith journey. Seek. Read. Find. There's so much to discover as you grow to know the God you're looking for.
Reading Seek is like sitting down with a close girlfriend while she lays out a plan and purpose for having a genuine, growing relationship with Jesus. Donna's conversational style will capture you as she dispels confusion about familiar Christian terminology. She gives practical, biblical advice to women on how to begin and continue in a lifelong relationship with Jesus. As the director of women's ministries in my local church, Seek is the book I've been searching for.
This book delivers exactly what it promises—an intimate personalized introduction to God. In a wonderful blend of clear biblical truths and winsome personal stories, Donna Jones weaves a delightfully engaging encounter with our living Lord. The well-balanced blend of Donna's wisdom and investigative biblical studies provides a wonderful journey for any woman who would like to get to know God—and it is a powerful refresher for any woman who would like to deepen and enrich her faith. I encourage you to pick up this book and dive in. Your life will never be the same.
I love this book by Donna that helps us understand the basic fundamentals of the Christian faith. She is genuine and charming, and the book is an enjoyable read. It would be the perfect book for a women's small group.