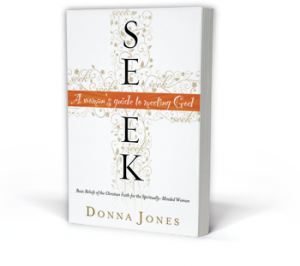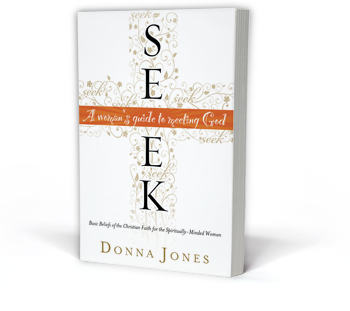 Los Angeles, CA: "Nothing can separate you from the love of God." These words can provide encouragement for many women, however, understanding their meaning and applying it to their lives can often be a struggle for women.
If God is real, then why don't more women automatically know who God is or feel His presence in their lives? What should they know about God, Jesus and the Holy Spirit? What should they believe? How does this whole "God thing" work?
Curious women want answers especially during times of doubt or uncertainty. But some do not seek answers to their questions if the process seems too difficult or if they fear they will appear ignorant to the Bible, God or their faith beliefs.
For author Donna Jones, it was her childhood doubts that motivated her to discover answers to God and faith on her own through prayer and study. Over the past twenty years, Donna has made it her life's purpose through her ministry to give women the opportunity to meet God and understand that He not only loves them, but He seeks them daily.
"Meeting God is not about religion, rituals or restrictions but about a personal, fulfilling relationship with Him. Every relationship with God starts somewhere," says Donna. "When life gets tough, our natural response is to doubt God's goodness and love or wonder if He has abandoned us; but God assures us, 'You will seek Me and find Me, when you seek Me with all your heart' (Jer. 29:13)."
In her new book, SEEK: A Woman's Guide to Meeting God (Regal, July 2012), Donna shares the essential truths of the Christian faith in a non-threatening, inviting, and conversational approach with women of all walks of life and faith who feel like they should know more about God, the Bible or the basics of their faith.
For the woman who believes meeting God is confusing or intimidating or for the woman that met God in her past but may not sense His presence today or for the woman who desires a closer, authentic relationship with Him, Seek will provide a better understanding of the following:
God in Skin: Jesus: the one who will never leave you, the Great Pursuer, the Compassionate Healer, the Forgiver and our Savior
The Invisible God: Holy Spirit: Helps us meet God, gives us assurance, helps us understand and apply God's Word, makes us witnesses, prays for us and is our helper
Bible Basics: Its uniqueness, the promises to claim, the commands to obey, the examples to follow and the truths to believe
Prayer: Reasons to pray, direction on prayer, elements of prayer, unanswered prayers, when God says no and when God says wait on the answers
Growing in God: Know and Follow God's Word, get connected with other Christians, find a place to serve and talk to God daily
Seek is a resource for individual or group study, and will help readers understand that God gives them the ability to experience their life at their fullest potential through His forgiveness, freedom, mercy and love.
"Seeking God isn't something you do only when you're exploring the possibility of meeting Him, but something you continue to do in order to know Him, love Him and follow Him," says Donna. "Seeking God is both the gateway to meet God and the pathway to grow in your relationship with Him. God's great desire is for us to know Him."
About the Author: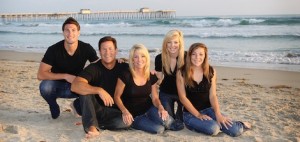 Donna Jones holds a B.A. in Communication Studies from UCLA and did her graduate studies at USC. She has been in full time ministry for over 20 years including five years at Campus Crusade for Christ. A sought after national speaker, Donna has encouraged and equipped women throughout the United States, Asia, Europe and Africa. She has been featured in national media outlets including Better Homes and Gardens, Family Circle and Parents magazine. Donna is the author of SEEK: A Woman's Guide to Meeting God and Taming Your Family Zoo: Six Weeks to Raising a Well-Mannered Child. Donna and her Pastor husband, JP, have been married for over 20 years and reside in southern California with their three children. Her official web site is www.donnajones.org.
Product Details: Publisher: Regal (July 15, 2012) Paperback: 256 pages
ISBN-10: 0830763783 ISBN-13: 978-0830763788
Suggested Interview Questions
For Donna Jones, author of Seek:
1. What type of person would you recommend to read Seek? What need did you see in women with regard to knowing and understanding God?
2. Is it natural to have questions and doubt regarding God and faith? What are we to do with the emotions related to our questions and doubts? How does God react to our doubts?
3. Does God seek us or are we to seek God? In what ways does He seek us out?
4. As a child you grew up in church but you had your own doubts and questions regarding God and faith. What started you on your journey to seek God? What did you discover?
5. In what ways does God reveal Himself to us? What should our response be when He does? Can this be a lifelong process?
6. How can someone understand the aspects of a loving God in a world filled with tragedy and evil? How does God provide hope for us through these difficulties?
7. What are some basic understandings we should know about God and Jesus?
8. Who is the Holy Spirit? What is the role of the Holy Spirit in the life of a believer?
9. In what ways can the Bible transform our lives? How do you recommend we gain a better understanding of the Bible? What does the Bible offer us today?
10. Doesn't everyone sin? Is confession of sins a one-time event or ongoing process?
11. What are the elements of prayer? How should we respond if God says "no" to our prayers or does not answer them?
12. How can we grow in our relationship with God? Should we seek God only when we are trying to meet Him?
13. Do you have an official web site?
NOTABLE QUOTES FROM SEEK:
If you're seeking to meet God, you can expect some conflicting emotions. It can be exciting, but also confusing, intimidating, or even downright scary. This book was written simply because I think every woman should have the chance to meet God if she wants to. If you seek God, you'll find Him. God promises as much: "You will seek me and find me when you seek me with all your heart" (Jer. 29:13). (Introduction, pg 12-13)
Every relationship with God starts somewhere. Jesus invited these two curious men to get to know Him personally, which is kind of mind-boggling when you think about it. God wants you to know Him. Intimately. Personally. Every relationship has a starting point, even a relationship with God. (Meeting God for Real, pg. 15-16)
When we approach God humbly and honestly, He lavishes us with His mercy and grace. When we allow ourselves to receive these gifts, our appreciation and love for God grows. We begin to see God for who He is, rather than who we think He is. (Meeting God for Real, pg. 32)
Acknowledging our need for God's forgiveness and accepting Christ's free payment for our sin is the bravest, wisest choice a person can make. It takes guts to admit our need. (Why Are There Jerks in the World, and Am I One of Them? pg. 115)
Prayer offers us an opportunity to thank God for His blessings and praise Him for His character. Prayer supplies a way for us to listen to God, to hear Him speak to us through His Word and His Holy Spirit. Jesus promises that God rewards those who pray with sincere hearts. Prayer isn't about the words; it's about the heart. (Talking with God, pg 124, 127)
When your heart isn't right because of an attitude or an action, God sometimes withholds His answer until your life dovetails with His. Sometimes He withholds answering our prayers because He is forging our character. Sometimes our prayers go unanswered because of our own attitudes or actions. (Talking with God, pg 130-131)
What's true for a broken human relationship is also true for a broken relationship with God. For any relationship to be reconciled, the root cause of the separation must be addressed and dealt with. What is the root cause of our separation from God? Sin. Therefore, to be reconciled with God, we must address the root issue of sin. (The Really, Really Good News, pg 156)
If a woman truly believes, she obeys. It's that simple. Does she obey perfectly? No. Perfection doesn't happen until heaven, but her life will show evidence of her faith. It's this progressive life transformation that gives us confidence and assurance of our faith. (After the Introduction, pg 175)
Have you ever wondered why some people have a close, intimate, life-giving relationship with God, and others do not? Have you ever considered why some Christians radiate Gods love, joy and peace, and other Christians seem harsh, negative and burdened? We grow in our relationship with God to the degree that we cultivate our relationship with God. (Growing to Know the God You Seek, pg 182)